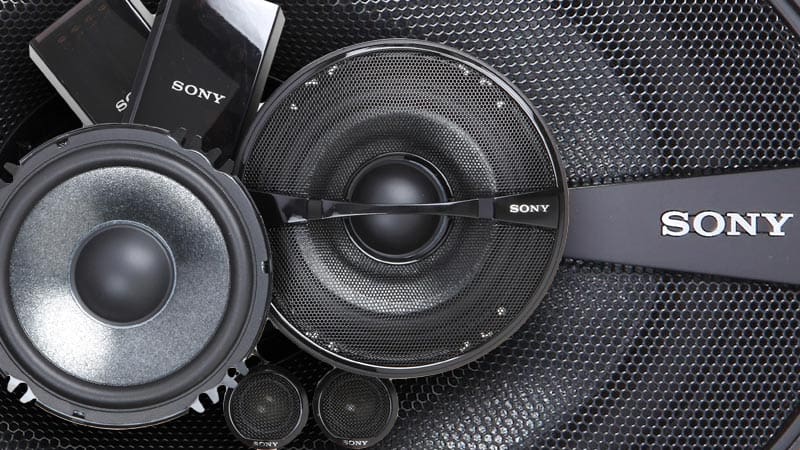 The Sony GS series of source units, amplifiers, speakers and subwoofers offers excellent performance at accessible price points. In this spotlight, we take a close look at the features and benefits of the GS-Series speakers and subwoofers.
GS Component and Coaxial Speakers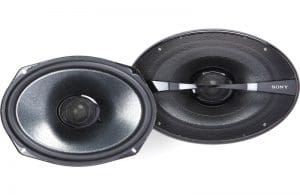 The GS series includes the XS-GS1621 6.5-inch coaxial, the XS-GS1621C 6.5-inch component and the XS-GS6921 6×9-inch coaxial speaker sets. Common to all three speakers are Mica Reinforced Cellular (MRC) and glass fiber-enhanced pulp woofer cones. The addition of mica and glass fiber strands to the pressed pulp construction improves the thermal and structural stability of the woofer cone. Each woofer features a large ferrite magnet for excellent efficiency and a rubber surround at the top of the cone to ensure long-term reliability.
Each speaker set employs a two-way design with a 1-inch synthetic fabric soft dome tweeter. The tweeter features a rare-earth magnet for excellent efficiency. The XS-GS1621C component set includes hardware to flush- or surface-mount the tweeter. An optional angled adapter increases the surface-mounting installation options. All three speaker sets include removable grilles with two-piece fine mesh inserts. High-quality rubber rings hold the grille inserts in place securely.
The 6.5-inch speaker baskets include provisions for three- and four-hole mounting in 6.5- and 6.75-inch standard applications. Mounted depth on the 6.5-inch speakers is 2.25 inches and 3.25 inches on the 6×9 driver.
Passive Crossover Networks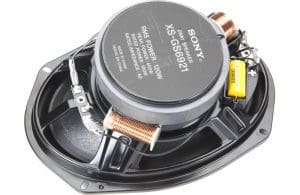 All three GS speaker sets include two-way crossovers. On the coaxial speakers, the crossover components are attached to the basket. On the component speaker set, the crossover come in their own enclosures. The tweeters are filtered at 5,000 Hz with a 12 dB/octave slope for excellent power handling. The output of the woofers is filtered at 5,000 Hz with a 6 dB/octave slope to reduce high-frequency output. The first-order response of the passive network, combined with the natural high-frequency roll-off the woofer cone, results in the output of woofer and tweeter blending nicely for smooth and natural frequency response. Not many coaxial speakers include passive crossover networks with both high- and low-pass filters. This is very impressive at these price points.
Also unheard of at this price point are passive networks that can be driven from a single amplifier channel or bi-amped for more tuning flexibility. The tweeter output on the XS-GS1721C components includes 0 dB or -3 dB level adjustment using a toggle switch in the tweeter housing. To improve system efficiency and frequency response, it uses high-quality polypropylene capacitors in all applications instead of inexpensive electrolytic caps. Electrical connections use 0.110-inch and 0.205-inch quick-disconnect spade terminals.
Sony GS Series Subwoofers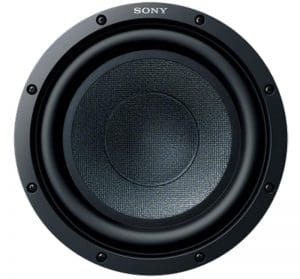 The GS Series includes the XS-GSW101 10-inch single voice coil, XS-GSW121 12-inch single voice coil and XS-GS121D 12-inch dual voice coil subwoofers. All three subwoofers are based on the same MCR glass fiber composite cone material as the speakers. A heavy-duty rubber surround at the top of the cone provides reliability, and a rubber boot around the magnet gives the subs a clean look. The woofers are constructed on a black stamped-steel basket with integrated vents under the spider mounting plateau. Combined with the vented pole piece, the vents allow hot air to escape from the voice coil to improve power handling.
The 12-inch subs are rated to handle up to 500 watts of power, and the 10-inch sub can handle 450 watts referenced to the CEA-2031 test standard. Peak power handling is rated at four times those numbers. Sony includes a rubber gasket and foam tape to ensure the installation looks great and is airtight.
GS Subwoofer Applications
The single voice coil subwoofers have a nominal impedance of 4 ohms. The dual voice coil 12-inch can be wired in parallel to present a 2 ohm load, or in series for an 8 ohm impedance. Your choice of amplifier and the number of subwoofers you intend to use will determine how they should be wired. Electrical connections are made via binding posts that will accept bare wire, spades or banana plugs.
The 10-inch sub will work well in extremely small sealed enclosures or vented enclosures between 0.75 and 1 cubic foot. The 12-inch subs also work well in sealed enclosures. If you want more low-frequency output, then a vented design of around 1.3 cubic feet will dramatically increase efficiency and power handling.
If you are in the market for new speakers or a subwoofer for your vehicle, the GS Series from Sony offers features found on speakers often costing two to three times as much. Your local authorized Sony retailer can help find the perfect GS solution for your application.
This article is written and produced by the team at www.BestCarAudio.com. Reproduction or use of any kind is prohibited without the express written permission of 1sixty8 media.